Phew….I never really got a chance to sit down and write while I was on the road.
Germany: I flew to Dresden, Germany for the International Vegetarian Congress which has been held every two years since 1908, except the years surrounding WW1 and WW2. So this year was the 100th anniversary.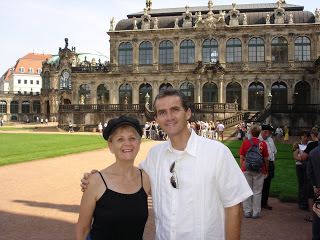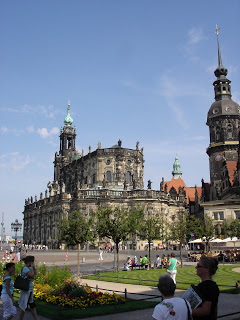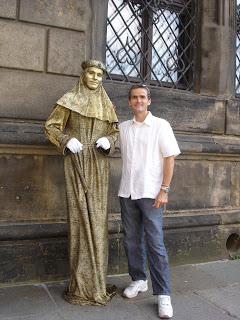 Dresden is a really interesting city, rich in culture with amazing architecture. I really enjoyed the fact that now that I was in Europe my body was now 5 hours ahead of the actual time, so this made it very easy to rise early in the morning. In fact, the first day I got got up at 4am and walked to the part where I spent the next 2 hours doing mantra meditation amongst the beautiful trees, birds and chipmonks.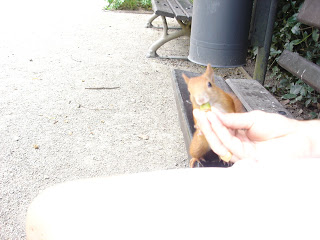 It was so nice to just lose myself in that park. Sometime I would hug a tree and try to feel the presence of the nature spirits around me. I often make a habit of thanking them for the wonderful work they do, despite modern societies abusive and senseless behavior.
There were about 60 people at my presentation, but more importantly, the team from Supreme Master television were filming, so this meant so many thousands would get to hear our message. I felt satisfied with the presentation and many people came up after and thanked me. Whenever this happens, in my mind, I immediately offer this praise to the volunteers in the field that do the actual work. I see myself as their servant and cheerleader.
During the congress, I meant leaders of many organizations and some high profile people in the nutrition movement, like Brenda Davis and Vesanto who have written many books, including: Raw Revolution in collaboration with my good friend Cherrie Soria from the Living Light Institute (www.rawfoodchef.com)
Brenda and Vesanto are two of the most wonderful women you could ever meet and I feel blessed and honored to call them my friends. Brenda expressed great interest in our charity work and asked if there could be any opportunities for her son to get involved.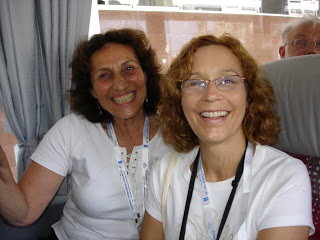 Some other olds friend I reconnected with were Surabh Dulal, Peter McQueen, Dilip Barman, Gerry Coffey, Francisco Martin and John Davis.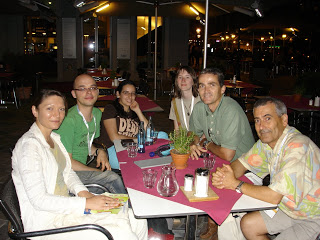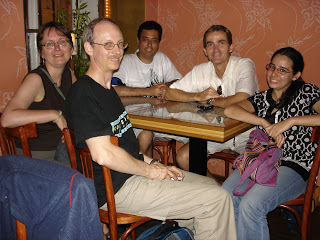 All of them have been big advocates of FFL's work and have helped to raise awareness.
Barbara Rutting was also in attendence, an indeed she was was on the main attractions at the congress as she is a big celebrity in Germany. Barbara is an old friend of the devotees and has been a big advocate of Food for Life since 1995 when I first met her in Buselingo. The last time I met her in Vienna she invited me to give a talk at the Bavarian parliament. I showed Barabara the Food for Life world map and she asked to have one for her office. Barabara is the leader of the Green party in Germany.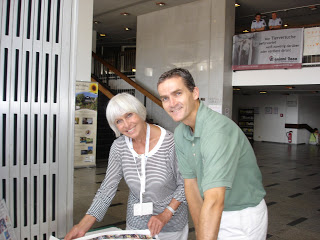 It was really great to reconnect with a very old Krishna friend named Gaura Lila. I was so happy to see that he was giving a talk on spiritual vegetarianism. If there is one thing that is lacking in many of these health food conferences, it is the spiritual dimension. The fact is that we can never be perfectly healthy and happy without nourishing the soul. That is one reason why I also give a talk called "The Yoga of Eating," where I explain how we can make eating a spiritual experience and use it to raise our consciousness, regardless of our religious affiliations or prejudices.
A young lady with an incredible future is Laila Weber. She heads up a drama group and at age 16 has maturity and intelligence way beyond her years. She expressed interest in doing some drama courses with children at the Vrindavan FFL project and the Gokulam orphanage in Sri Lanka.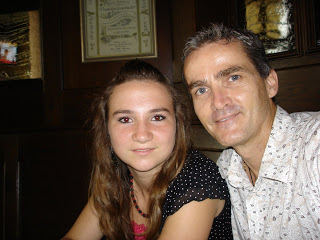 After the congress I took a short trip to Prague in the Czech Republic. I had not visited this city since 1995 and was intrigued to see how much it had changed. I was impressed with the architecture and the way that the city has been able to preserve the integrity of the past with the modernization of the way of life.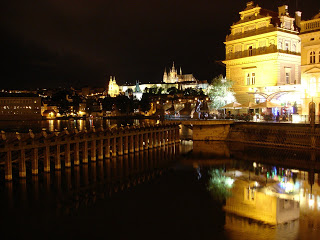 Check the above picture which shows the famous castle of Lady Madonna in the background looking over the the river.