March 11 Monday
Trincomalee, Sri Lanka
The resort is really peaceful and pleasant. Slept long and peaceful. Rose at 5.30am to greet the sun on the beach. I did my morning warrior yoga routine and dipped in the warm Atlantic pacific ocean. The water is like a warm bath. Just lovely to swim in.
While lazing by the pool reading my book, I met Rai and Luisa, a lovely couple from Austria and Germany. Rai knows all about the Illuminati and the activities of the lodge! We talked about all kinds of things.
Rai is a screenwriting and acting teacher. I made sure to get some tips on screenwriting as it is my desire to write a movie script about my father's life. He was infamously known as the "Phantom" and became best poker-machine hustler in Australia.
We all went snorkeling today at 3pm on the nearby Pigeon island. I had never really done it in the ocean before, so I was a little anxious. Those that know me, know that I don't have the greatest lung capacity, mainly due a partially blocked left nostril (deviated septum). It has made me nervous whenever there is a challenge to my normal breathing. I pushed through the fear and eventually got good at it and had great fun. The fish here are beautiful here. It is another world underwater, and most of the world's ocean floors have still not been mapped.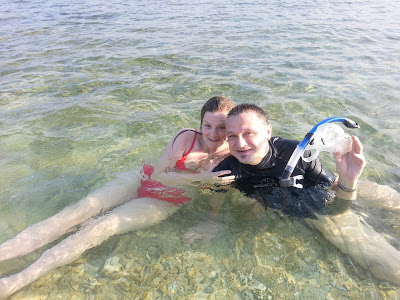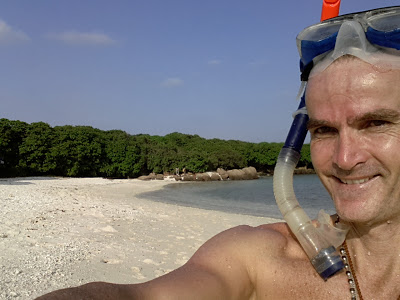 March 12 Tuesday
On the advice of Rai, I visited Swami Rock today. It is an awesome monument dedicated to Lord Shiva and the place where Ravana worshipped Shiva.
My taxi driver was really helpful in showing me around. On the way, we visited a large Narayana temple. You have to take off your shirt to enter. That was a first for me. On the way out, I offered a donation, but mistakenly put in an Australian $10 rather than a few rupees. I guess Narayana, the husband of Laxmi (the Goddess of Fortune) was laughing at that one.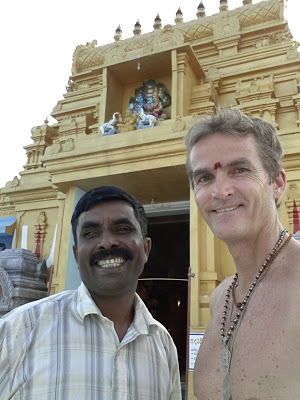 While driving up the hill the the Siva temple, we saw reindeer! Yes, Santa Claus reindeer in Sri Lanka.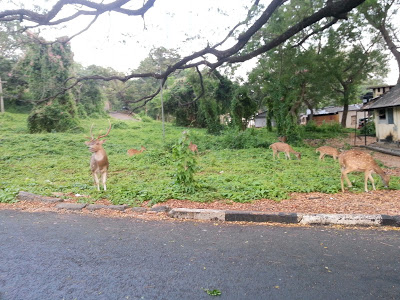 (above) Reindeer in Sri Lanka!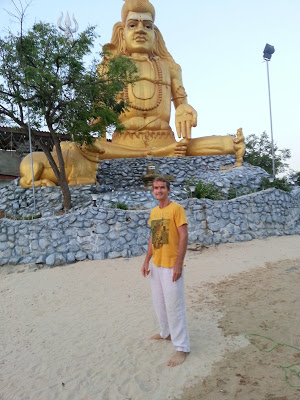 (above) Lord Shiva
I arrived late and the gate was closed, but I did a "Hanuman" and jumped the fence to look around. I was mesmerized by the stare of Lord Shiva. This place is awesome.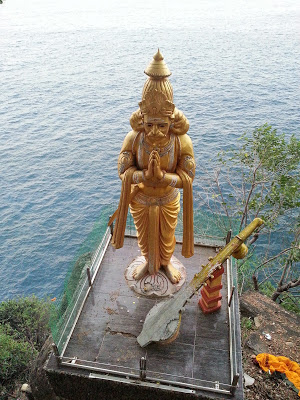 (above) King Ravana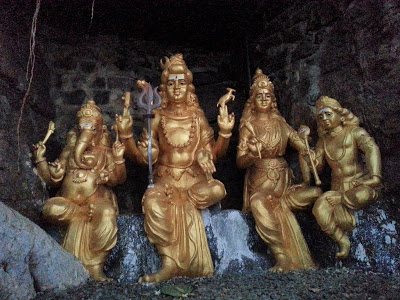 (above) Ganesh, Shiva, Parvati and Karikeya
March 13 – Wednesday
I came across some absolutely beautiful samples of Nautilus shells and had to buy some as a gift myself and a dear friend. Each one was only about $10. A bargain! The nautilus is legal to ship into Australia, unlike some other shells. So I bought two and sent then to Australia. The nautilus is famous as a perfect example of the golden spiral.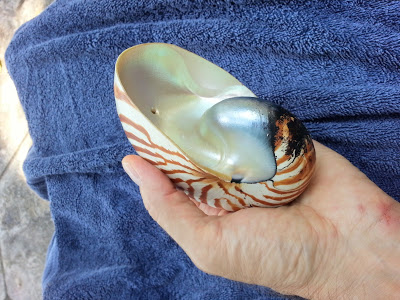 Checked out of the hotel today and took a taxi all the way back to Colombo. What a big mistake to get the hotel to book it. The taxi company overcharged me big time. Nearly triple what I should have paid. 16000 Sri Lankan rupees ($120). It should have been like 6000 Sri Lankan rupees ($50). I left at 9.30pm and arrived at 3am.
March 14 – Thursday
Went out to get a plane ticket for India, but then realised I needed a visa, so we had to use an emergency service that charged me (again) 16000 rupees to get a visa by next Wednesday! I need to be careful with these expenses. Note to self: Get a multi-year, multi-entry visa for India.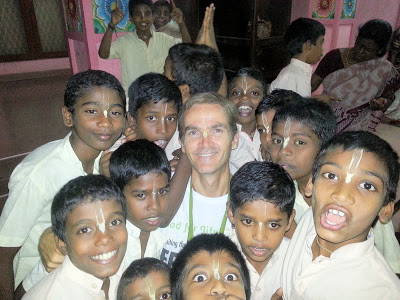 That evening, I led a kirtan at Gokulam orphanage. The children were so excited. Hot milk from a protected cow, some magic tricks from me, lots of laughs. It was fun and refreshing to spend time with the children. It brought back fond memories of my first time here, however, all the children from that time had grown up. It was a completely new set of faces greeting me and singing with me tonight, but the mood was just as i remember — sweet and enthusiastic.
March 15 – Friday
Went shopping with Sri Rangani and bought some saris for friends. Later I went for dinner at a popular vegetarian restaurant. I was alone, so a nice family: Mahesh, Aruna and their daughter Arunama invited me to join them. They even offered me samples of their meal — so hospitable. They then drove me home and invited me for dinner on Monday night. I was so touched by their kindness.
March 16 – Saturday
Spent the day with Sri Rangani at the beach. Multiple fruit plates of papaya and mango with virgin pina coladas. It was a chill day.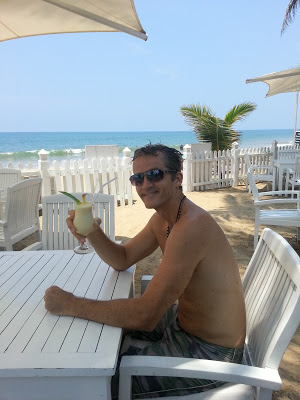 March 17 – Sunday
I gave the Sunday talk at the local Krishna temple. My presentation had to be translated, but the people really appreciated it. I think even the temple president liked it, because it was very different to what he would normally hear at the Sunday talk. I try to make my presentations accessible to a wide variety of people and it seems to be working.
March 18 – Monday
Worked on books and then went out for dinner at Aruna and Mahesh's home. Lovely people. Their house was huge, compared to most houses in Sri Lanka. Mahesh took me up to his temple on the top floor. They were Buddhists. Even then showed me some very rare and sacred items from his collection. I felt honoured that he not only invited me into his home and fed me, but was so confident to share some very personal and meaningful items with me.
I offered to do their numerology.
March 19 – Tuesday
I left my small room provided by my host Mahakarta and booked into the Mount Breeze Hotel near the same beach in Mt Lavania. It was quiet and a nice view of the beach. That night I played pool with guests. I impressed them with my skills. I still have it! I could have easily have been a professional if I had tried, but in my deepest heart, I realized that it was not the right path. So billiards remains just a cool hobby for me.
March 20 – Wednesday
My Indian visa is ready but I was still at Mount Breeze hotel. Up early and did a full morning Warrior workout and yoga after a japa walk. Then worked for a few hours in the restaurant before playing more billiards for 2 hours with the staff. I spent another relaxing afternoon on the beach. Played rugby with some locals. I certainly don't have the same spring in my step as I used to. It was a challenge keeping up with these young men, but they were very happy to have me participate.
Decided to have dinner at the hotel restaurant, but the 2nd part of my meal was very slow to come out, so when it did, I just left it on the table and went upstairs. My appetite had completely gone. One rule of good health is to NOT eat if you aren't hungry.
I am sure the guy was offended by my actions, but seriously, I waited for close to an hour for the second part of my meal, while others in the restaurant were served before me. Alas, things don't always work out the way you want them to. This was hardly an inconvenience though, considering that so many children go to bed hungry every night. I am so blessed to be involved with a charity that is trying to alleviate hunger.
www.ffl.org