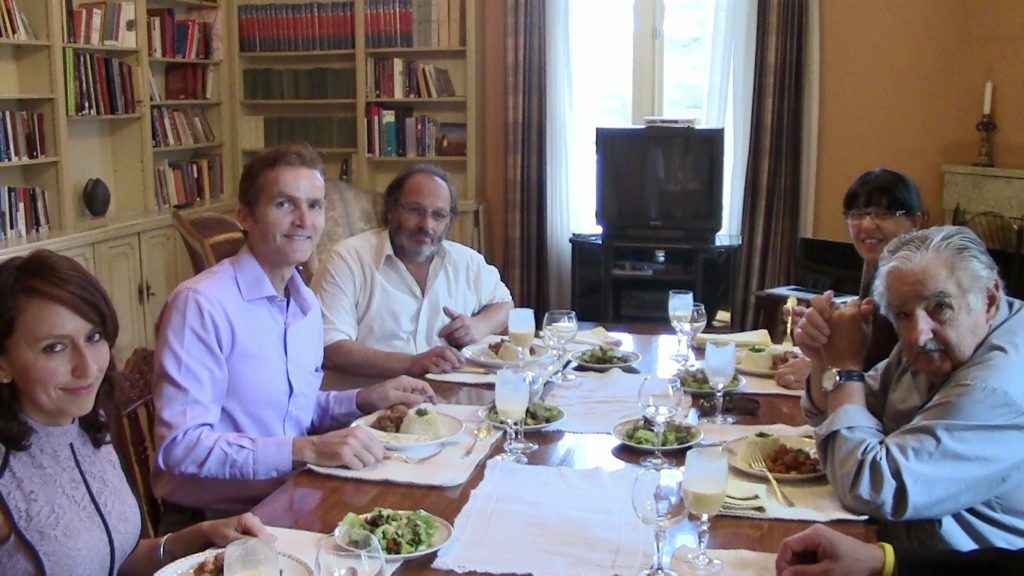 The idea of cooking a vegan lunch for the President of Uruguay was something I immediately thought about after my partner Juliana told me about Jose "Pepe" Mujica. She was like a little girl when describing this amazing man. She then showed me youtube videos and translated speeches he had given at the United Nations summit and online articles about what others had said of him and how rockstars like Aerosmith wanted to meet this humble man.
"He is the poorest president in the world," she told me. "He is also the most popular. It was all amazing to hear. Jose "Pepe" Mujica is a president of a democratic and modern country driving around in an old Volkswagen and wearing cheap suits and shirts. Rather than live in the presidential mansion in the city, he prefers to live on his humble farm with his beloved wife and grow vegetables. "I am not poor," he told the BBC. "I am actually rich. I have everything I need. Others are poor that want to many things." Mujica donates 90% of his salary to charity.
"I have to meet him. I have to cook for him," I told her. "Ok, let's try," she said. But how? "I have a friend in Uruguay. He is a famous sports reporter and tv celebrity. He knows everyone. Let me call him," she told me excitedly. Soon enough she got the answer from her friend, Pepe Mansilla that it was indeed possible and that he had met the president many times and loved the idea of us meeting him. He asked us to send all the materials we can on our charity work with Food for Life.
Months went by with no word from him, but we all knew that it was going to happen. Pepe Mansilla said he dreamed about the meeting. I could visualise it clearly in my mind and so too did Juliana. But when and how would it all play out. We did not know.
We were scheduled to arrive in Uruguay on March 10 as part of a lecture tour I planned; first spending 2 weeks in Brazil and then 2 weeks in Uruguay. We arrived and settled into our apartment in Montevideo. I kept myself busy giving talks at the local ISKCON temple while Mansilla continued to work on the meeting. He told us, "I am sure it will happen, but we just have to wait." Apparently the presidents secretary and security team were doing background checks on Juliana and I. Meanwhile Mansilla arranged for me to be on the daytime television show, Dia a Dia where I talked about Food for Life and my new book, FOOD YOGA. The host asked me what are my plans in Montevideo. I told him that we hope to start a new Food for Life project here with the help of the president. "He is very popular, even in Australia," I told the host. "Oh my, our "Pepe" Mujica is even more popular than football. Wow!"
It was March 21 and our scheduled return to Colombia was March 26. We were hopeful still but wondering when we would get the "green light" to actually meet the president. Then on March 22 we got confirmation. "You can cook him lunch and meet with him. But you only have 1.5 hours for everything," said Mansilla. "We're going to make Mujica's lunch!" I shouted with a smile. Juliana literally jumped into my arms. We were both so happy.
March 24 was to be the day. There was a lot to prepare. The menu! What do we cook? We finally decided on a bbq tomato, pumpkin curry, lentil soup, lemon rice, chapatis, samosas, mango chutney, avocado salad, coconut cream and mango smoothie, and a peppermint / chocolate ice cream cake!
The day before the lunch I gave a talk at the ISKCON temple and then we raced around town purchasing all the ingredients. The temple congregation were so happy to hear of our plans to make prasadam for their beloved president that they sang to us as we left for shopping.
We were told we had to cook for 15 people. There would be a lot of shopping to do. Somehow we found everything and dropped it off at the president's kitchen that same afternoon. Tomorrow, Monday we would have to arrive at 8am to start making the vegan feast. Everything was to be ready by 12 noon. The pressure was on. It was officially "Game on" time.
We both hardly slept that night as the meeting played out in our minds over and over. Fortunately we rested enough to be fresh and ready to go at 7am. We arrived at the presidents house around 8.20am by taxi carrying bags of extra ingredients. As soon as we entered the kitchen the presidential staff were waiting eagerly. They told us, "Tell us what you want us to do. We are here to help you." I had gone over the cooking strategy with Juliana multiple times so that on the day it was all second nature to us both. As planned, we set everyone on a specific task of cutting or cleaning as I managed the cooking. Juliana and our friend Labhanga helped me cook while the local staff did most of the cutting and cleaning.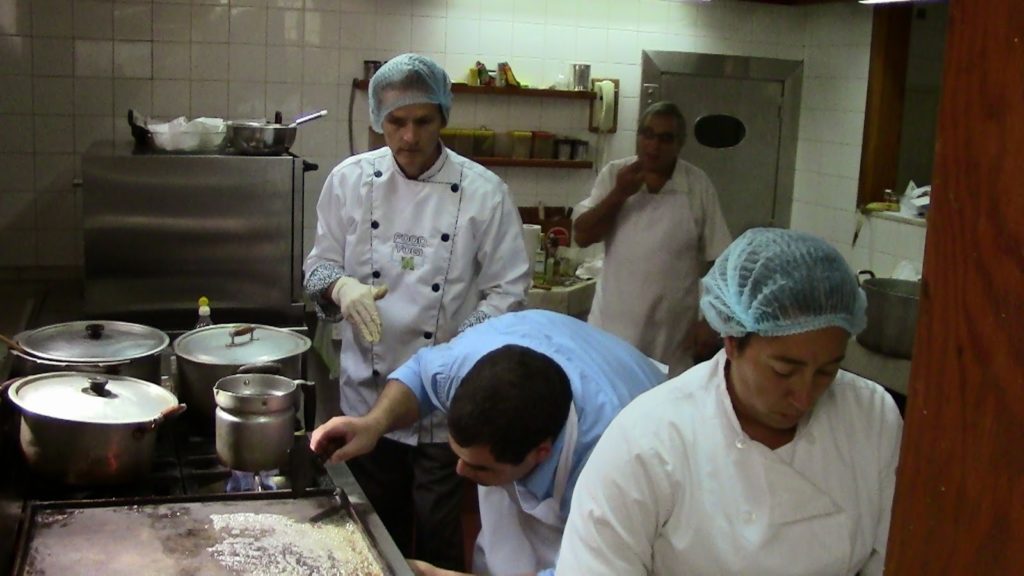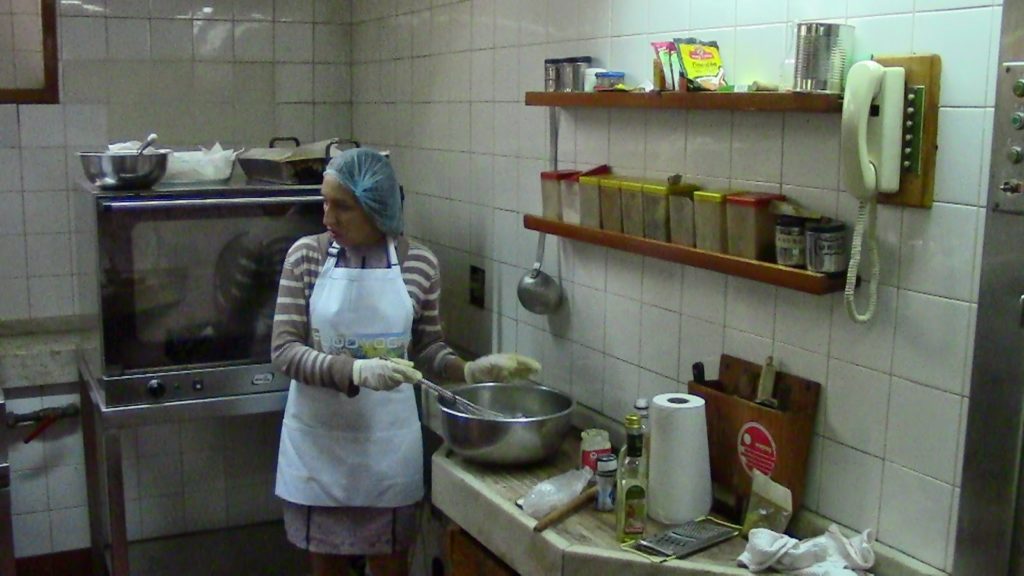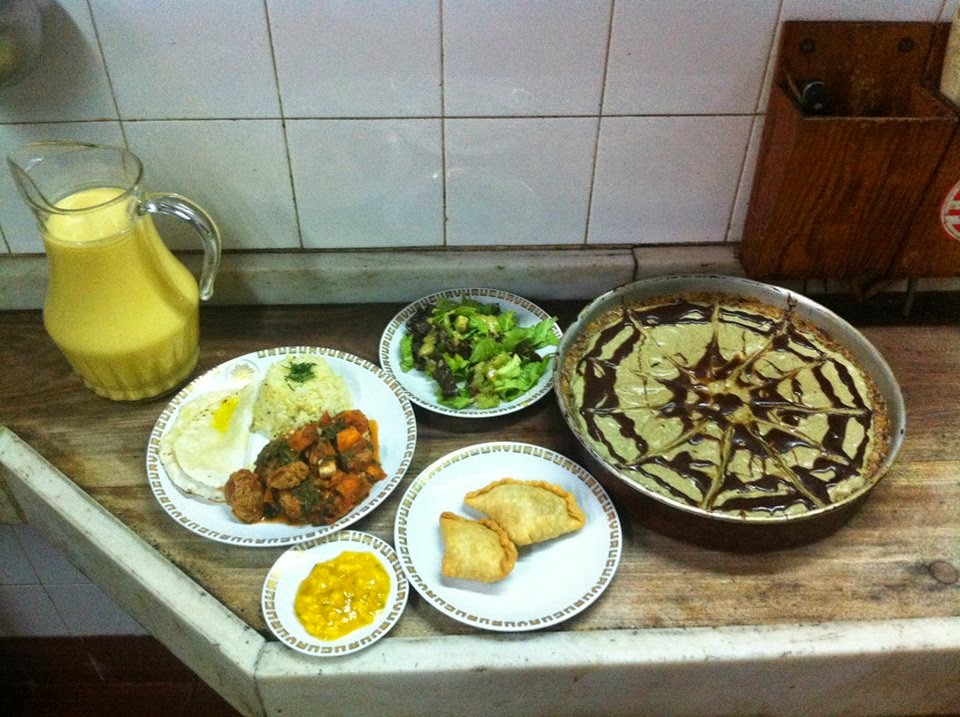 We dined on the finest gold leafed china and silverware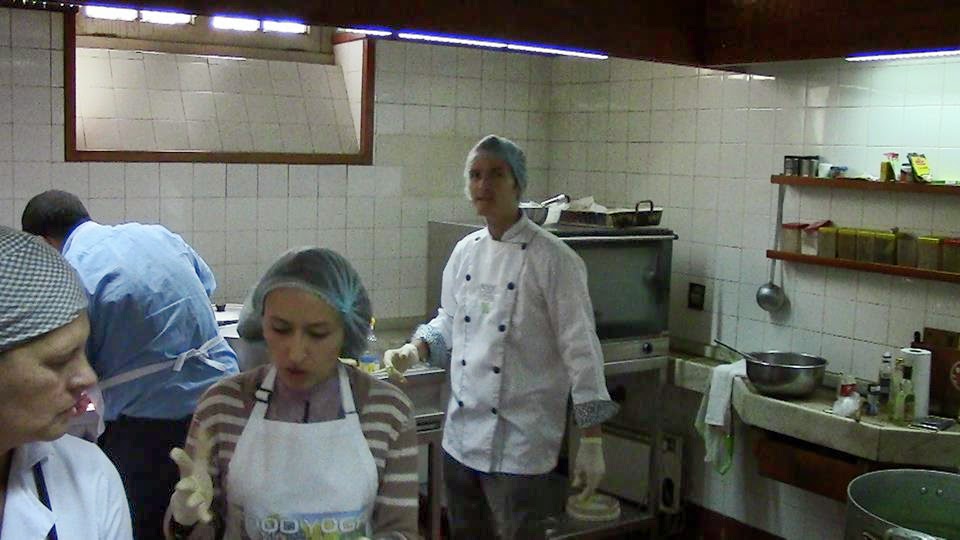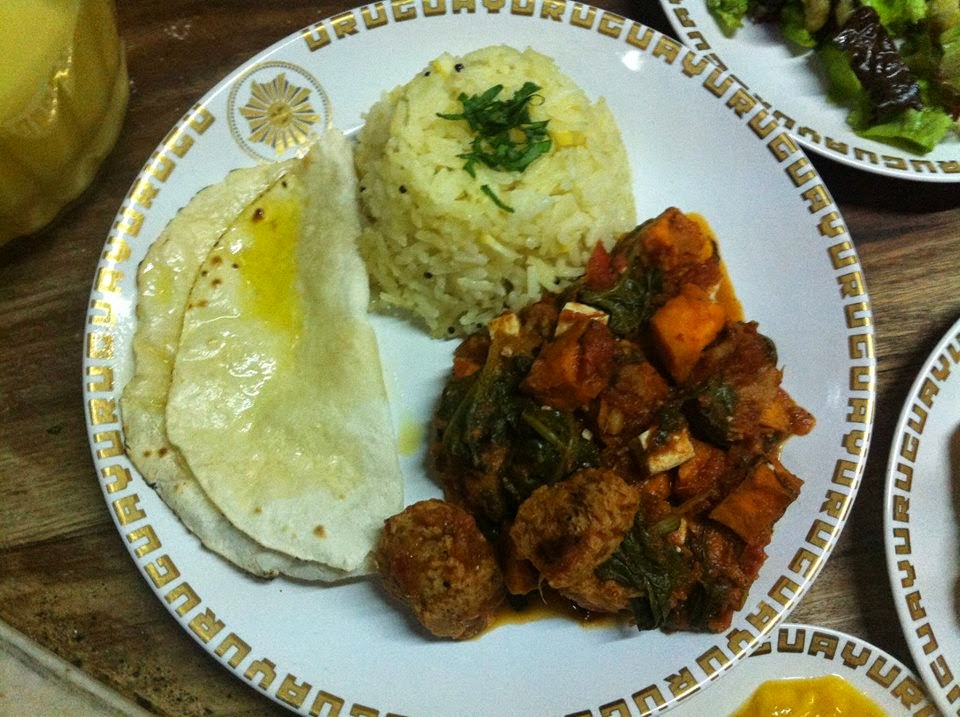 Everything went like clockwork. By 12 noon all the preparations were complete. I was told that the lunch would be served at 12, but actually it was not served until 12.40. I put together a sampling of all the things we made and had all the cooks come together with me and did an offering meditation over the food to bless it with nice energy. The local staff watched on and were really impressed. Later I was told by the president's head chef that he watched me carefully and was furiously taking notes of all my recipes.
I changed out of my chef shirt and put on a new light pink one. I was relieved and satisfied. We had completed phase 1, a nice vegan lunch for the president. Juliana and I went upstairs to greet the president. A car pulled up and the president got out. He was wearing blue jeans and a light grey shirt. He slowly climbed the stairs as Juliana and I anxiously waited. We greeted each other casually and proceeded to the dining room. It is not every day that you get to meet a world leader, but here we were about to have lunch with him — a lunch that we prepared ourselves!
We all sat down. I was opposite President Mujica with Juliana to my right side and the Minister of Social Development to my left. To the left of the president sat our friend and colleague Pepe Mansilla and to the president's right sat his charming secretary.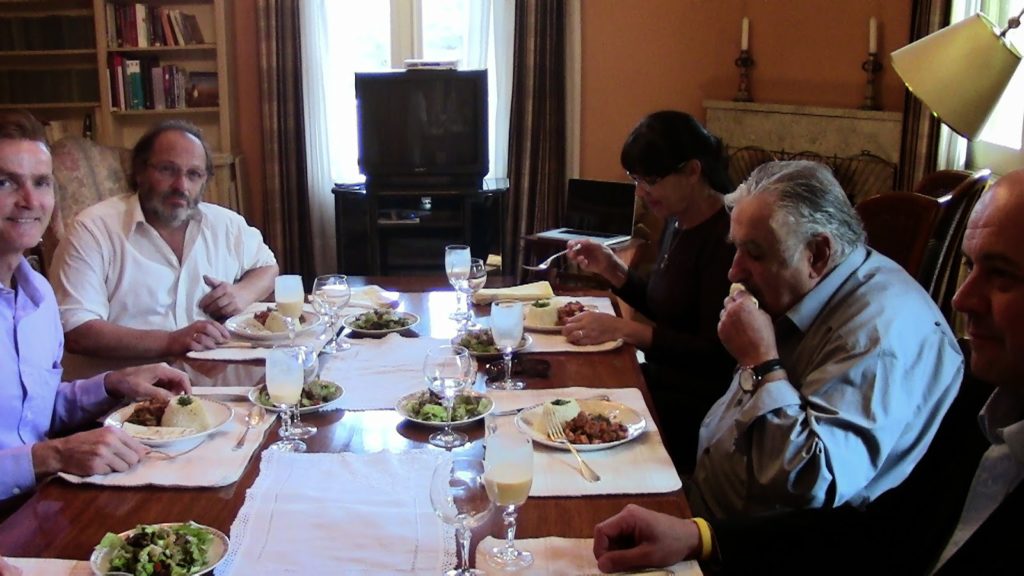 Earlier, the serving staff asked me to show them how the lunch should be served. We made up a sample plate and instructed them to bring the meal in 4 courses. Everything went very smoothly and they did exactly as I had asked.
The president was not feeling well but he gladly accepted everything we served. He especially liked the lentil soup, vegetarian samosas with mango chutney and the mango lassi made by Juliana. He actually drank 5 glasses!
After the main courses were served it was time for the peppermint, chocolate vegan ice cream pie. Wow, it was so good. I had made it just right this time and was very proud. We completed lunch and continued discussing how Food for Life could cooperate with the government. It was then that I showed everyone a 10 minute video on the work of Food for Life Annamrita in India. Both the president and the Minister were super impressed. He told me, "The door is wide open for Food for Life. Let's cooperage to bring healthy meals to the children in schools." The president told me that there is a great need to educate people on how to eat properly in Uruguay.
"We don't have education about how to eat; we eat too much meat and people are sick all the time. We have to know what we need to eat. This country has all seasons, so our people need to understand what and when to eat the correct foods according to those seasons."
He also spoke fondly of the farmers and how they work hard but are not always good at business. I said to him that Food for Life has a policy of working with local farmers and businesses to support the local economy. He loved that idea and was even more encouraged to work with Food for Life.
"One of the important things in my government is to support the small farmers."
The president identifies with the small farmers, because he himself is one and grows vegetables to sell in the marketplace.
Our scheduled meeting was to last only 1.5 hours, but it was now 3pm. We asked the president to sign some autographs and he immediately asked for some paper and began writing little words of wisdom under each person's name. No one expected it, but it was so touching. He asked for the name and then offered some sage advice or encouragement even though some of the people were our relatives that he had not met. I had no paper, so I asked if he would kindly sign my $20 note. He happily complied and wrote:
"To Paul: This man was not convinced that woman deserve education too."
Apparently the man on the note, Jose Rodo, did not believe that woman deserved education. President Mujica, on the other hand, has demonstrated a lot of support for women's rights and education, because his wife was in jail with him during the dictatorship and had fought valiantly for women's rights. Education for all woman is essential, so when he saw the picture of Roda, he told us to not educate woman is so wrong.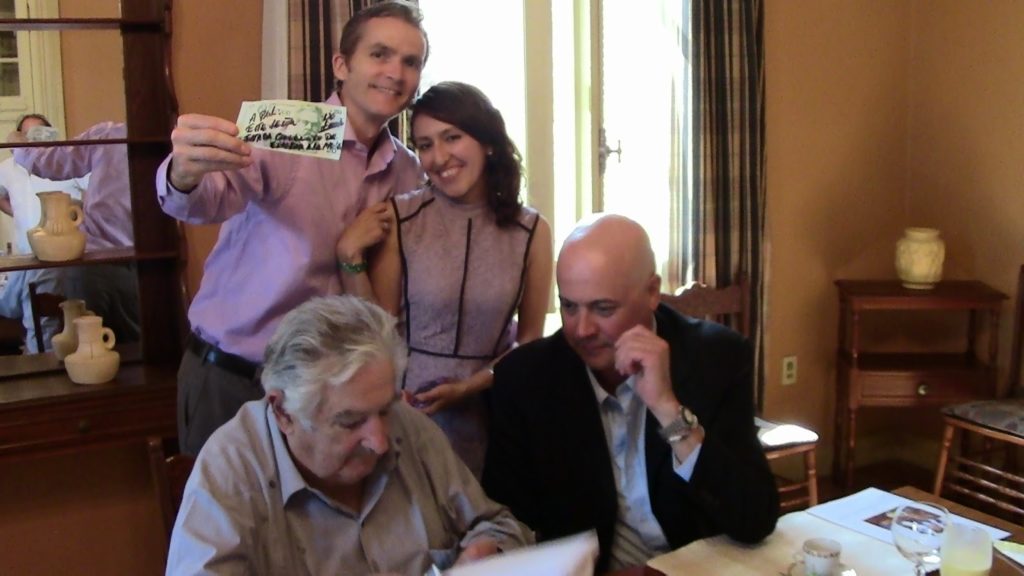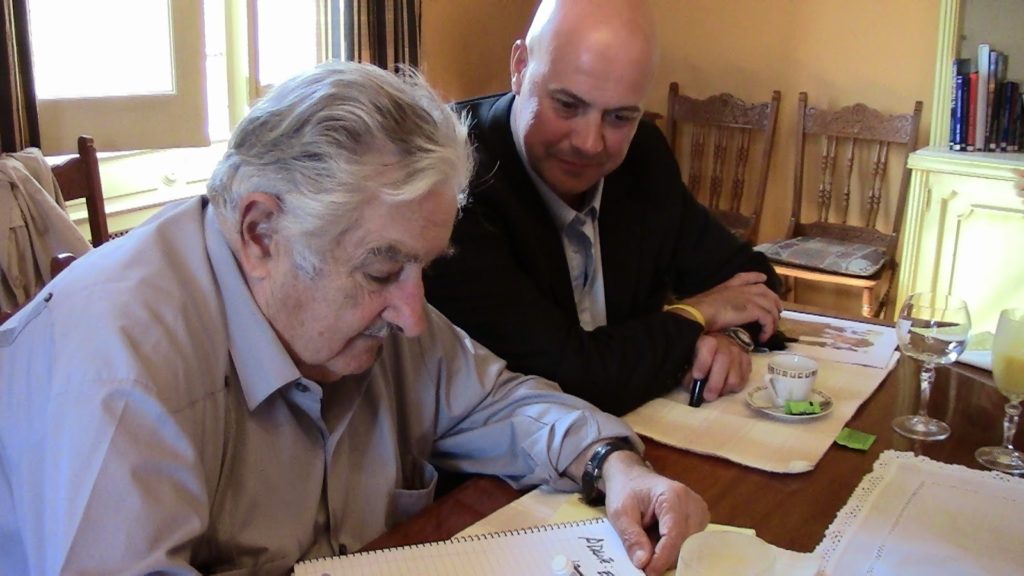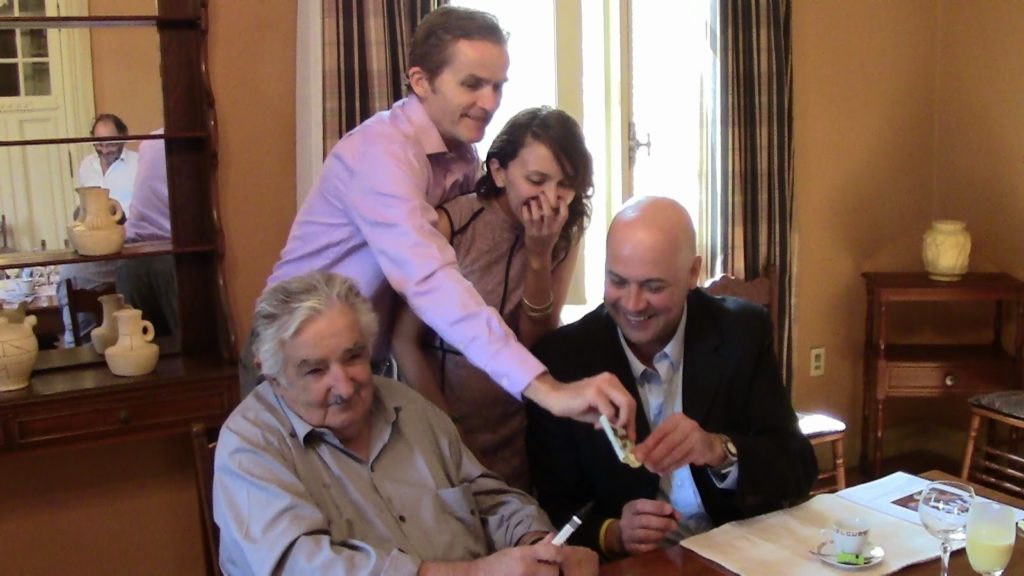 We bid farewell to the president and the staff. The head chef told me that the staff loved our vegan lunch and the non-veg meal that he had prepared earlier was still sitting there. It was the first time anyone had ever cooked a fully vegetarian (vegan) meal in the president's house. It was indeed an experience and everyone wanted to try out the new dishes.
It is amazing what you can do when you fix your mind on some ideal and believe it. I fully believed this would happen. I could clearly see it in my mind and smell it. We did it and everyone was happy. It was a great day for Juliana and I and our good friend Pepe Mansilla. He told me later that the meeting went even better than he expected.
So now for the follow up. We have appointed Pepe Mansilla as the new director for Food for Life in Uruguay and he is currently setting up the new foundation to manage the project. Food for Life Uruguay will work closely with the Minister of Social development to create a scaled-down version of our successful midday meal project in India. There is much to do, but the first order of business is establishing the new foundation and working out healthy vegan meal plans.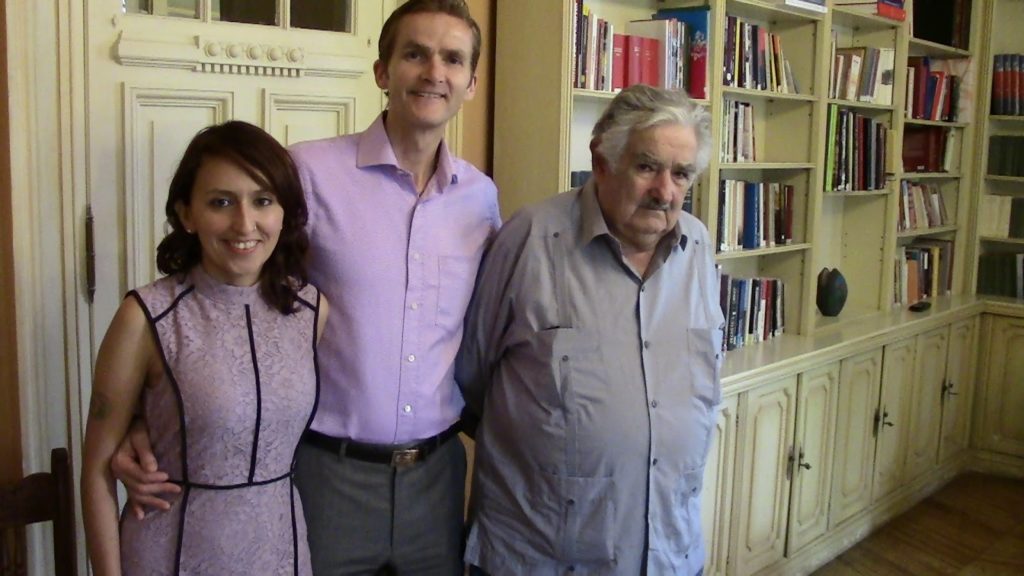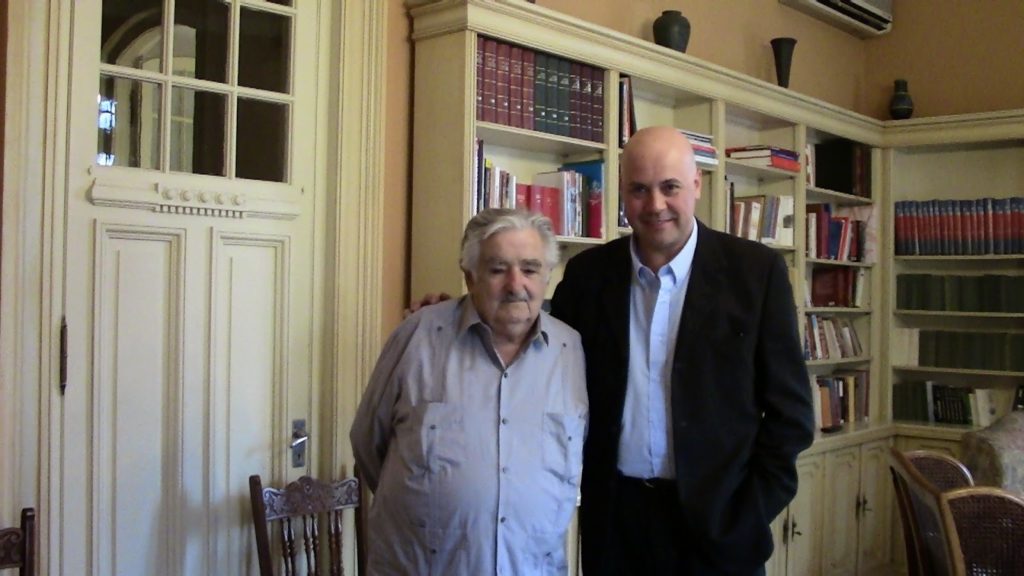 To keep up to date on the progress of this new initiative in Uruguay, visit www.ffl.org