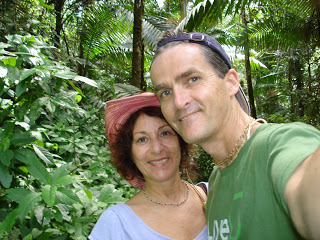 I am traveling a lot at the moment. I just got back from Germany and Prague and before that I spent a lovely 8 days with my daughter, Kishori, in Puerto Rico.
Kishori learned how to boogi board. I was so proud of her and also quite surprised. She was so brave. We traveled all around the island and witnessed so many beautiful things and met so many beautiful people.
My friend, Nancy (in picture with me) and Carlos hosted us in their lovely house up in the mountains. We had a spectacular view from our balcony! See more of my trip on facebook.
My trip to Germany was for the International vegetarian congress. It was the 100th year of the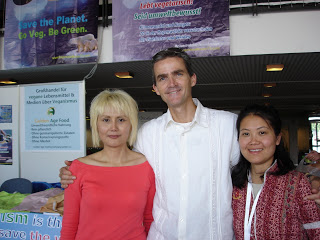 congress and about 700 people from around the world attended. I met a lot of old friends and made some new ones, including Laila a nice young girl of extraordinary moral character. She has been a vegetarian her whole life and now manages a drama team in Dresden, Germany.
I enjoy traveling as it gives me time to reflect on the blessings in my life and plan for the future. I typically always get flashes of inspiration during these journeys or connect with incredible people who can help further the efforts of my charity, Food for Life. One group of people were the lovely people from Supreme Master TV. Celestine and Weiwen (seen in this picture, as well as Kimmy were so vibrant and helpful. The ladies prepared the most divine snacks at the congress and the film team videoed my presentation and then later interviewed me for their show. I can honestly say that the disciples of Supreme Master Chin Hai are extraordinary. They light up the room and are some of the sweetest people you will ever meet. See more pics on facebook.
SUPREME MASTER TV is a free-to-air satellite channel broadcasting 24 hours a day, 7 days a week, with a variety of engaging programs in English with over 30 subtitles and 40 languages. Being the ideal television channel that brings to your life Nobility and Spirituality. Broadcasting on 14 satellite platforms across the globe.
My next trip is to Fort Bragg for the Vibrant Living Expo and then on the Nevada for Burning Man. Should be fun!