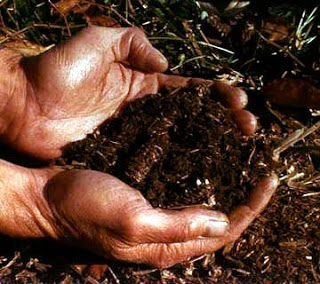 I am loving the organic "Pizza" garden that now flourishes outside my friend's apartment – 5 varieties of heirloom tomatoes (Abe Lincoln, Brandy Wine, Money Maker, Black Krim from Russia and a variety from Costa Rica), 5 varieties of hot and sweet peppers (Cayenne, Habanero, Italian Pepperecinni, and a black and yellow kind), 8 varieties of basil, including Thai, lemon, cinnamon, Italian, a chocolate mint, stevia, zataar, oregano, cilantro, epazote, sorrel, and sunflowers. It's just awesome!
Gardening is something we all should do. It is really the most natural way of reconnecting to our source. As children we loved to play in soil, explore and create. Somehow along the way of adulthood we forgot how important that was to us. We disconnected and became a product of the media. It is such a shame to see the sad and unhealthy faces of Americans eating at places like McDonalds and shopping at grocery stores filled with genetically-engineered "plastic-like" fruits and vegetables. No wonder the hospitals and pharmaceuticals thrive.
The good news is despite all the artificiality and apparent hopelessness, we still have one thing that can never be taken away — our individuality and free choice. We can always change things around and improve our situation, despite the circumstances. Look at the example of world-renowned psychiatrist, Viktor Frankl (author of the classic bestseller, Man's Search for Meaning). Dr. Frankl, a Nazi concentration camp survivor, is perhaps best known for practicing and espousing "freedom of will," especially in terms of one's choice of attitude, as a point of departure on the path to meaning. In Dr. Frankl's own words, "Everything can be taken from a man but–the last of the human freedoms–to choose one's attitude in any given set of circumstances, to choose one's way." In other words, in all situations, no matter how desperate they may appear or actually be, you always have the ultimate freedom to choose your attitude. That independence, albeit, minute, can never be taken away.
Therefore, whenever we confront a situation that is stressful, negative, or somehow challenging, use your free will to list "ten positive things" that are or could be associated with (or could result from) your circumstance. Expand your imagination and suspend judgment, listing whatever comes to mind, no matter how crazy or unrealistic your thoughts may seem at the time. Be free to determine or define what "positive" means to you and recruit family, friends, colleagues, co-workers, etc., to help you with your list, if necessary. It is a great exercise and I guarantee it will change your entire attitude on life and show you possibilities that you had not noticed before.
Gardening is just one way that we can reconnect to our source and get back to the basics of our unique and individual human existence. Try it and see how your entire attitude will change. At the very least you will start to eat more healthfully and that alone can purify the body and clean the mind of the artificial bonds that we allow to control us.