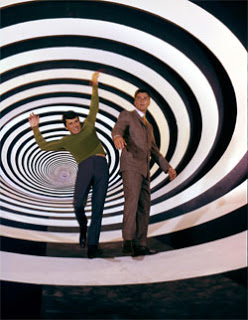 When I awoke today I laid in bed and spent many hours just going over past childhood memories, looking for answers for what made me the person I am today. The exercise was certainly interesting, and yet despite how hard I tried, all I got were mostly the same old memories. I visualized myself walking around my old house and then in the homes of friends and relatives, all the while trying to stimulate the mind for new pictures and experiences that I could learn from. However, there was nothing really all that compelling or instructive, other than what I already had come to realize about my persona thus far.
But then it struck me: All those past memories are just that, memories or "mental photographs" and "mental videos" that do not exist anymore. They are in fact illusory and gone forever. Yes, they serve a function of supporting the philosophical paradigm we currently adopt, but other than that, they are useless. What really matters is what is happening NOW? Who are we NOW? What can I be thankful for NOW? What do I want NOW?, etc. As I meditated on the NOW, it reinforced the importance of steering clear of meditating on what you don't want. To often we think and speak about what we don't want to happen, or what we don't like, etc, rather than what we want or appreciate. Such thoughts and discussions are not only unproductive, but harmful as well. You see, by thinking and talking about what you don't want, you're in effect attracting that very thing to you. The vibrations you send out in the form of words and mental thoughts, act like a magnet and sure enough the Universe arranges to send those experiences your way.
Therefore, today I began the day meditating on what I wanted in my life and what I could be thankful for right now. It is an exercise that we should do every morning because it then sets a positive framework for the rest of the day.
You see, living in the NOW is really all that matters. Our life is in essence just a bunch of NOW moments strung together in this illusory web of time. In the higher spiritual planes, there is no time. Time is conspicuous by its absence. Life in the spiritual realm is eternal, so the concept of past and present do not exist. Living is all about NOW.
Learning to live in the moment is truly a gift of immeasurable worth. In the Western world we are brainwashed to think in terms of schedules and deadlines, so our lives sometimes feel like a blur of past unfulfilling experiences. The word "Deadline" seems to solidify the idea that we are racing against the clock to meet out death!
Take a moment to stop and study the faces of people during rush hour and see how anxious and worried they appear. The "consumer-driven" system we have adopted in the West keeps us running on a "treadmill" getting nowhere. There is another interesting word, "Nowhere". It can also be written as NOW HERE. Instead of running for a mirage in the future, it is better to stop and appreciate what is NOW HERE.
The last 12 months of my life have probably been as transforming to me as the first year of my life when I became a monk way back in 1983. At that time, as is happening now, I began deconstructing everything I had ever learned up to that point and building a new reality for myself. Shaving my head was a big part of that experience. I remember looking in the mirror and thinking how different I looked now, and that all of the vanity that came with those long locks was now laying on the floor ready to be swept away. I felt so liberated! A new persona had emerged. I was "Born again," if you will. From that day on I dove deep into the path of bhakti yoga and never once regretted that decision.
Now 26 years later, so much has happened since that fateful day. I surrendered 14 years of my young adulthood to live as a monk, traveled the world, got married, had a daughter, got divorced, left my base in Washington DC, and am now starting all over in New York — rebuilding once again. A dear friend of mine in New York has been so instrumental in my new metamorphosis by constantly reminding me of the very things I write about today, while also helping me to be more objective and less dogmatic. The new ME living in the NOW, although still strongly drawing on my most recent history as a Vaishnava, is a work in progress as I explore other spiritual traditions and honor and respect the perspective and opinions of great thinkers, philosophers, adherents, and even antagonists of these traditions.
The important thing to realize is that we are ultimately not Christian, Hindu, Vaishnava, Muslim, Zorastrian, Jewish, or Bhuddist, all of which are just material designations, but rather, we just are. You and I are unique individuals. There is no need to put a label on who you are. Nor is their a need to define yourself by some church, temple, community, race or religion. You are who you are — a fragment of the splendor of God. We are in fact little Gods having a human experience. The human experience is meant for facilitating self discovery, bringing us to the point where we know absolutely who we are on the highest spiritual planes of existence. The search begins with recognizing that we are eternal spirit souls, far more significant than some gross physical body. Once we are set in this divine paradigm, characterized by the absence of time, we then need to focus all our thoughts, gratitude and actions on what is happening NOW, because in absolute reality NOW is all that really matters.
According to the Gregorian Solar calendar, today is the anniversary of my birthday. Many friends have expressed their love for me and offered blessings, so I am inspired and thankful for their presence in my life right NOW.
May the rest of my life be a string of such meaningful NOW moments, because when death comes knocking the only thing that we can hold onto is the NOW and how we are responding to it. To live in the moment is to live eternally.