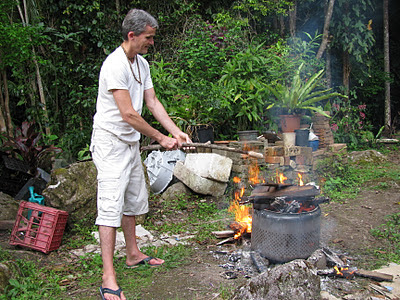 Cooking Australian bread "pockets" using scrap wood
Feeling very blessed today from all the love coming from so many distant friends. Thank you so much!
Just as nature evolves according to the fibonacci sequence, we also evolve by taking a lesson from the past and applying it into our future step forward. The important thing to remember throughout this evolutionary process is to not remain too long in the past, but rather to look back just enough to get perspective, just as one would do when looking into the rear vision mirror while driving.
Similarly, we should not reject the past, but rather burn it in the fire of life experience and wisdom. In other words, the old and used energy becomes the "fuel" for the torch that lights our path; the "fuel" to warm our body; and the "fuel" to create something new.
We are a product of the decisions, mistakes and lessons from the past and today I can honestly say that I am happy with my past and feel stronger than ever to become the best person I can possibly be. We are interdependent beings, and so my personal journey is filled with the mercy and guidance of so many great souls. Some of them came in the guise of ascetics, while many others appeared as ordinary people, animals and insects. Of course, no one is truly "ordinary". We are all sparks of a Divine Godhead, only covered in various layers of mental conditioning and karma.
Thank you to my spiritual teachers who blessed me from the start of my journey and who continue to pray for my success despite my shortcomings.
Thank you to all my spiritual brothers, sisters, uncles, aunties, partners and so-called "enemies", both inside and outside the Vaisnava tradition. You are many and so it will be impossible to thank you all by name. My body may be bound by the limits of this physical frequency, however, in spirit, my loving arms are wrapped around you, or my head is at your feet in absolute appreciation for the love and kindness you have shown me. Thank you. Every one of you who have helped me in some way or another to evolve.
If I have a benediction on this day, then let it be this: May all of you be blessed with peace, prosperity and the love of someone else.