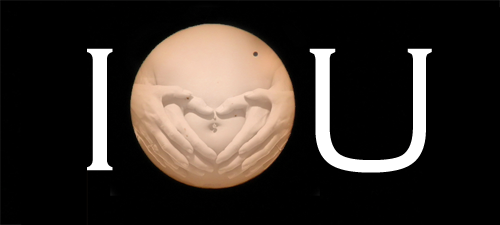 2012 Venus transit of the SUN
I adore the sand beneath my feet,
as winds caress on this sunny Broadbeach,
escorting sounds — of Mother Nature divine,
and my mind emerges from all things swine.
The waves crash — upon the ocean floor,
as my soul ascends through an open door…
Of expectation and prosperity,
Discarding any sense of mediocrity.
The sun is blazing upon the Venus dance
Immersing the Earth in divine romance…
Across the face of hope and vitality,
Bathing Earth's residents in sensuality.
If there was someone you loved, but had not told,
Today would be the day to be so bold,
For the love energy is pure and will nurture your heart,
So draw that string now on cupid's dart.
Unlike Valentines, which is a charlatan's play,
Venus infuses you deeply with love today
So step up to the plate and take a swing,
While the energy is high and the Angels sing.
Your DNA is changing, as these astral events unfold,
Driving your consciousness — away from the cold…
Of Kali's chilly, winter embrace,
as a Golden age dawns upon the human race.
Love is the answer, love is the way…
To happiness and success, so please don't delay,
Give up your pettiness and egocentric games,
And the frivolous pursuit of ephemeral fame.
Love is now, and will always be,
The most powerful force in reality,
So embrace the love — and radiate it back,
To every one and every thing — there is no lack!
You are unlimited, beautiful and heaven-sent,
Destined for success and utter contentment
Mother Venus is bathing your soul anew
Enriching, embracing and loving you
(c) 2012 Paul Rodney Turner