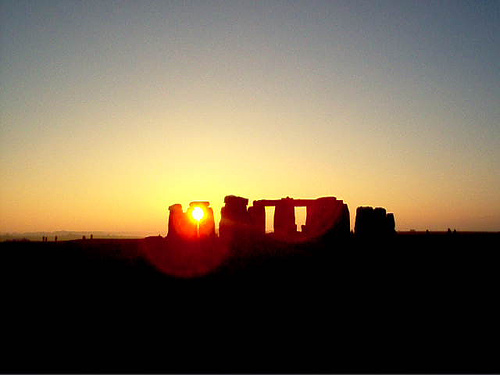 Winter Solstice, Stonehenge, England.
The new moon is dawning — evoking a new love,
as the angels look down from their heavens above.
It is a time for renewal — a time to grow,
a time to sow seeds — and a time to glow.
Give up all past memories — of failure and scorn,
reap the harvest of plenty — and enjoy the corn,
as the "lady of the night" — reveals her skin,
and her hidden blessings that harbour within.
She is a stellar attraction — in a world of pain,
beaming down her grace — of infinite fame,
reflecting the love of her Lord — the mighty Sun,
this "heavenly babe" — is kind to everyone.
Non-discriminate and cool — she traces a line,
around tolerant Mother Earth — a damsel so divine.
These two lovely ladies — nurture our sorry course,
through the trials and tribulations — of a soul divorced…
From the truth of spirit — and the world of divinity,
as we foolishly flounder — in lives of depravity.
Wasting so many chances — on a reckless chase,
to find joy and permanence — in a temporal place.
Never ceasing their love — they shine on and on,
bathing us constantly — in their paternal bond,
refusing to give up on us — despite our protest,
like mischievous children — we keep failing the test.
Father Sun, Mother Earth and divine Goddess Moon,
O' how fortunate we are to have such a boon,
that you love us unconditionally — despite our wicked ways,
And for this
I am so grateful
— and have nothing more to say.
(c) 2012 Paul Rodney Turner