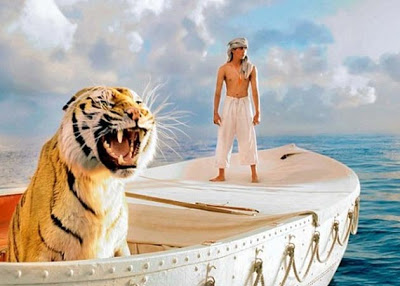 I saw Life of Pi 3D last night. I was a bit disappointed. There were some visually stunning scenes in the movie and the story was quite fantastic. The Narrator does a great job and so too does the young boy who plays the main role. But at times the movie just dragged on and I found myself asking, "When is this going to end?" Normally, if I'm watching something I am thoroughly enjoying, I'm like: "Wow, what's going to happen next?" With the Life of Pi, the storyline seemed pretty obvious, ship sinks, some people survive and because of the challenging circumstances there is lots of introspection.
But the real killer for me was the ending when the narrator, Pi tells another side of his story. Ouch, in just 3 minutes Pi destroyed all the wonder and fantasy I had enjoyed of his adventure, and I now had to consider that everything he narrated maybe nothing more than his fanciful retelling of a fable from the Hitopadesh. Also see: http://en.wikipedia.org/wiki/List_of_Panchatantra_Stories
And in one sense that isn't so bad. The story did have moral instruction: Depend on God; have faith and all will be ok in the end. But when I go to see a movie and have certain expectations and then throughout the movie I am led to believe a certain ideal, but then right at the end I'm fed a stinging doubt that the "ideal" is most likely bullshit, that sort of hurts.
I'd give this a 6 out of 10. Sorry for spoiling if for those that haven't gone. Just saying. You might like it.