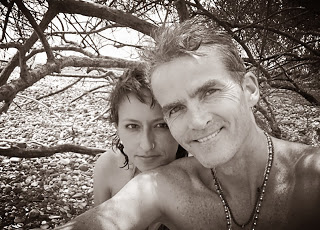 Dear Jagannath Priya, devi dasi you are,
A lover of animals, like a benediction star,
And those you allow to come into your world,
You nurture and love them, like an oyster does a pearl.
O' how lucky I am to, have met you this time,
when my heart is so open for romantic rhyme —
and all things lovely, and all things fine,
and in just a few days, I can call you "mine."
My heart is elated, and my soul is on fire,
as this man on a mission, walks his 'hire wire',
balancing his passions, while keeping site of his goal,
He knows if he falls though, you will catch his soul.
And hold me in high regard, as I will do to you,
as both of us work hard to please the "little boy blue,"
while still relishing the 'fruits' of a service divine,
we'll dance in unison, like grapes on a vine…
As they jiggle in the breeze of a happenstance song,
confidently knowing that nothing will go wrong,
they are like two grapes in a glass, of the finest red wine,
divinity is their calling — and no thing swine.
My desire is to honour you — for the Goddess you are,
to treat you royally, and to raise the bar,
to give you the love you, so rightfully deserve,
and to hold you tightly, like toast to preserve.
Accompanied quite aptly, with the finest of teas,
my passion is to enrich you, and my heart is to please,
So dear "Maiden of light," and "Goddess of the farm,"
Would you like to take hold of my confident arm?
And allow me to lead us to a place we once knew,
From where we once frolicked with the "little boy blue,"
a place so divine that no suffering can be found,
as all species dance united, to the holiest sound.
Priyavrata das (31-8-2013)
(c) Paul Rodney Turner