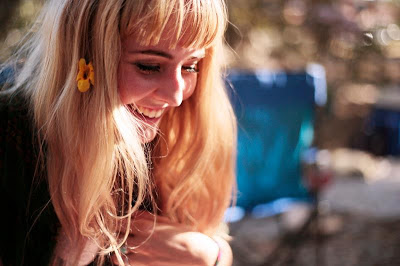 There's an angel called Grace — so pretty in lace,
especially when she wears her felt hat,
With her infectious smile, she drives all men wild,
but it's her dignity that's a matter of fact.
She's not your ordinary girl, with a flutter and a swirl,
no, this damsel stands alone,
As a lover of life, and all things polite,
she's a keeper to bring back home.
With her hula hoop moves, she can create fashionable grooves,
and set the scene for a fun singalong,
As the moon smiles back, she'll keep you on track —
that your life is a rhythmic song.
There's no telling what Grace, would pull out of her case,
of magic tricks and herbal spells,
As she danced around the fire, like a diva high-wire,
all participants would ring her bells.
That fire would roar, like an eagle would soar,
and stardust would sprinkle all around,
as the forest played along, to her angelic song,
and the music of hearts did resound…
To a oneness of all, as all eyes wandered the halls,
of consciousness expanded in light,
And the day dawned once more, like an orchestral score,
bringing a chorus of love so white…
Like a blanket of felt, caressing all as they knelt,
to the glorious Sun as He shone,
On those hearts so in joy, like a child with a toy,
and they called out: "ignorance be gone!"
It was that girl who would inspire, everyone to go higher,
to realms beyond the mundane,
With just a smile and a sparkle, of the divine Matriarchal,
For the vessel of Grace was Her domain.
O' how fortunate we are, to know this Southern Star,
For her beauty within shines throughout,
Her petite little frame, so elegant a flame,
a light that can remove all doubt.
Happy birthday!
(Born: 18 – Feb – 1991)
(c) 2013 Paul Rodney Turner