On Day 1 we gathered — at an eco-hotel,
Excited and hopeful — that all would go well,
Sincere seekers of truth, with hearts filled with love,
We prayed the Gods would bless us from those mighty peaks above.
On Day 2 we felt grounded — as we embraced Mother Earth,
Appreciating her artistry in stone carvings, and the birth…
of a Nation full of climbers, with calf muscles like granite,
you won't find stronger men by weight on this planet.
On Day 3 we dove deep — into the Mother divine —
Manifest as Water — with qualities feminine,
Such as softness, compassion, quiteness, and adaptability,
as well as nurturing, secretiveness and flexibility.
The mighty Trisuli — would express her powers 3+
Her challenging currents — were more than ample for all of us,
While her chilly waters drenched — our lust for soft beds,
The friendly sun shone boldly and warmed our sorry heads.
The Fire energy roared loudly — as we sat by the banks,
enjoying smores and good company — while our egos shrank…
from hardened wood to dark coals — on a black starry night,
we felt invigorated and thankful — for the grace of firelight.
Fire energy is masculine — with the power to destroy,
Manifesting as change, war, and fury — it can melt metals into alloys,
It's erratic behavior — is impossible to contain,
and yet, without its heat and light — we could not maintain.
On Day 4, vegan pancakes adorned our hungry plates,
prepared with love by Juliana — we all could hardly wait,
We then drove to Pokhara — to settle down for the night,
the first day of our trek — was now close within our sights.
On Day 5 we were greeted — with the most glorious sunrise,
set against a mighty backdrop — of glorious mountain highs,
As snowy peaks pierced the skyline, and clouds danced around,
We practiced yoga that morning — our energy unbound.
After a short morning commute — we arrived at Nayapal,
the starting place of our trek — a humble village in Nepal,
It was there we met "Yuddhi" a street dog with a smile,
She would walk with us gladly, for the next few miles.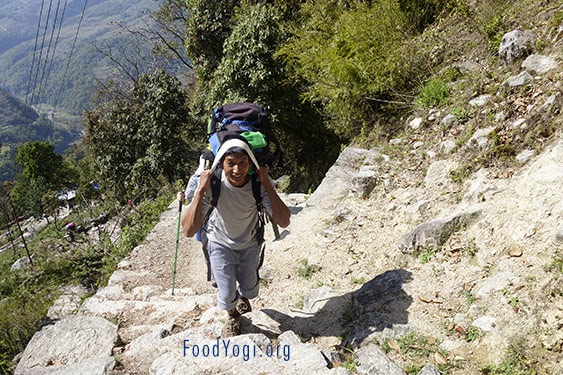 We trekked up and down — "Nepali flat" we were told,
it wasn't easy for any of us, but thank God it was not cold,
Today would be easy — compared to tomorrow's big ascent,
Our porters, led by "Babu" walked with focused intent.
We stayed overnight in a guest house, some 1600 meters high,
Although the air was getting cleaner — we all had sore thighs,
The rooms were very humble and the food simple fare,
but nobody complained — and nor did anyone care.
Our hearts were being enriched — with every step we trod,
lifting our heavy boots — while straining our quads,
On Day 6 we soared higher, up the steps to Ghorepani,
over 4000 to be exact, and boy, it was not funny.
By the end of the day — we were exhausted and very sore,
but elated we had scaled over 1100 meters more.
"This was now getting serious," our minds cried out in pain,
I admired the determination of Ivas, as he focused on the gain.
While Bob and Cyndi took their time — setting a steady pace,
Juliana shadowed Babu — with a mountain climber's face,
Matching his pace all the way, while glaring at his shoes,
The mountain "poker dot jersey" was hers to lose.
Meanwhile, Billy quietly ascended, holding sticks in both hands,
Like the great men before him, he made proud Deutschland,
Just behind him was Santa, snapping photos all the way,
while encouraging her man, Ivars, to the Gods she would pray.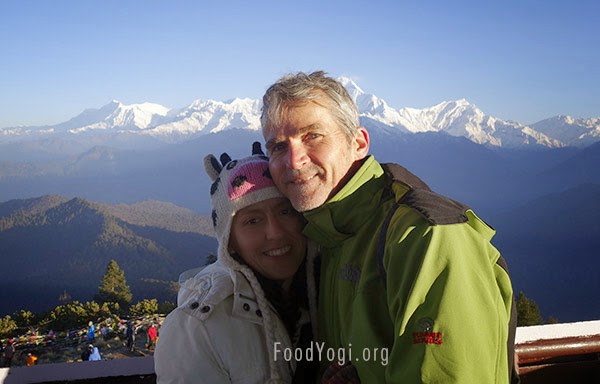 On Day 7 we arose early — to catch the sunrise,
scaling the top of Poonhil — we found clear blue skies.
I did headstands for my album, while we celebrated the new day,
after sun gazing respectfully — to Gayatri we did pray.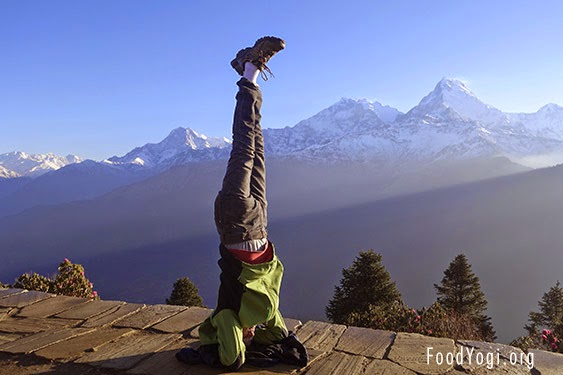 To Juliana's delight — her friend Yuddhi did appear,
It was some kind of miracle — she ascended without fear,
She'd never done this trek — and was barely 1-year-old,
and yet here she was smiling, wagging her tail so bold.
A great day to honor Fire and Air — combined in one breath,
enriching our lungs and eyes — we pushed away death.
Onwards went our trekking — as we headed for Tadapani,
Some 5-6 hours later it was still very sunny.
The weather kept cooperating — every day we felt blessed,
Making our trek all the more easier, as we walked in light dress.
Breathing deeply and slowly — absorbing the mountain Qi,
Our faces grew younger — as they filled with utter glee.
The quality of Air is feminine — embodying a soft touch,
expansive thoughts, sweet fragrance, and detachment as such.
We arrived at the Discovery Hotel, complete with spectacular views,
and bedded down for the night, to start a day anew.
On Day 8 we ventured downward — to a place called Chomarong,
In the evening, we all spontaneously broke out in devotional song.
After a demanding descent to Jhihu — that stressed our knees and calves,
It was time to soak our aching limbs in a refreshing hot bath.
The natural hot springs replenished our weary sore feet,
As we soaked and wrinkled up — we shared stories in the heat,
While the rapids churned powerfully — creating a pleasant natural song,
raindrops fell softly — it seemed nothing could go wrong.
Returning to our new guest rooms, 30 minutes up the hill,
We witnessed Mother Nature's power — as hail did fill…
the courtyard beside our rooms — crashing hard on the rooftop,
If it had come earlier today — our trek would have to stop.
But the Gods were blessing us — it was very easy to see,
Our guide and porters kept telling us — how lucky we had been,
Clear views, bright colors — and perfect paths to walk,
The Himalayas were so kind to us – I swear I could hear them talk…
To each and every one of us — a personal spiritual song,
One we could personally relate too — one that would make us strong,
As we expanded our consciousness – to embrace these new ideas,
We felt invigorated like children — with suction cups for ears.
For today was about Ether — and the intention it contains,
We should direct our thoughts to positive things — and eschew all things mundane,
We must master our mischievous tongues — with pure food and pure talk,
by praising others, giving gratitude, and wielding a conscious fork.
On Day 9 we returned to Nayapal — back to where we had begun,
Feeling tired but satisfied — the adventure had been so much fun.
As we drove back to our hotel — Nepalese folk songs played aloud,
As the leader of the group — I could not be more proud.
That evening I led everyone — on a visual meditation,
guiding them to each Element — to pause for appreciation,
How Mother Nature embraces us — with unconditional love,
How God is ever-present — and not solely in heaven above.
Each element expresses — in multifarious ways,
Through energy, food, behavior — and even what we say,
We are personified energy — experiencing material form,
It is imperative we realize — our soul is never born.
For energy is eternal — just changing shape and space,
What we know of each other — should be more than just a face,
Look behind the eyes of others — to see their force inside,
Embrace your soul divinity — with mountainous pride.
(c) 2015 Paul Rodney Turner