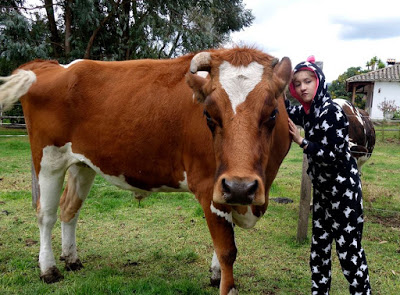 There's a young maiden called Dana — with Latin origins like Santana,
Who turns 18, on this very day!
She is shy to the bone — and happy to be alone,
But if you called her, she'd say, "hey"
Walking by your side — with a confident stride,
She dances with music in her ears,
A Donny Darko fan — she can easily be "the man"
And yet, butterflies will bring her to tears.
Yes, Zombies and Dracula — and anything spectacular,
Will excite this 1997 child,
And yet, puppies and bunnies — and all things sunny,
Would easily bring her back from the wild.
Like a pearl inside a clam — or a berry inside jam,
Dana, is a sweet as one could be,
Hiding her goodness within — like silver within tin,
One need only hug her to sense her qualities.
With eyes dark and deep — a wolf camouflages a sheep,
Her soul radiates with love,
Wearing a beanie and tights — she'd show she's ready to fight,
While bearing an olive branch in the mouth of a dove.
Born on the 9th of November — "a day to remember"
The monkey god, Hanuman, did declare,
Bearing a "mace" of virtue — and a crown of reddish hue,
A radiant smile would match her blonde hair.
Idealistic and strong — that nothing would go wrong,
Rebellious independence was her calling card,
But if you tickled her belly, she'd become like soft jelly,
And sing like a royal court bard.
Expressing a serious mood — she would sit and brood,
Painstakingly, like a jury on trial,
And yet, you knew she was fair — and not just in her hair,
For her heart would walk a veritable mile.
To show you her grace — and not her mighty mace,
Like a mouse gently nibbles on grains,
Dana would hold your worried hand — and help you understand,
That love was how to ease your pain.
This girl known as Dana — a gift of heavenly mana,
A scorpion, X-files fan, born in the year of Ox,
Is my sister-in-law — whom I very much adore,
And whose nephew will be Bhimal Fox.
Dana was born: 9 November, 1997
(c) 2015 Paul Rodney Turner