Way back in the beginning of my career with the charity Food for Life Hunter Valley, in NSW Australia, my friends and I conceived of an idea to help support our local charity. It was to create a mini snack bar called the Food for Life Bite and to sell these Bites at the checkout counter for $1 and with the profits from that sale, to use that to provide a meal to a needy child. The tagline: "Take a bite and feed a child!" The idea was solid then and still is today, some 27 years later!

Unfortunately, around the time we were preparing to kickstart that project I was called to head to the USA to establish a new international headquarters for the charity. I did just that and the Food for Life Bite kind of died. Fast forward a few years and I began to pitch the idea to vegan snack bar companies, all of whom liked the idea but for one reason or another were not ready to take it on. For all intents and purposes, the bright idea remained just that and nothing ever materialized.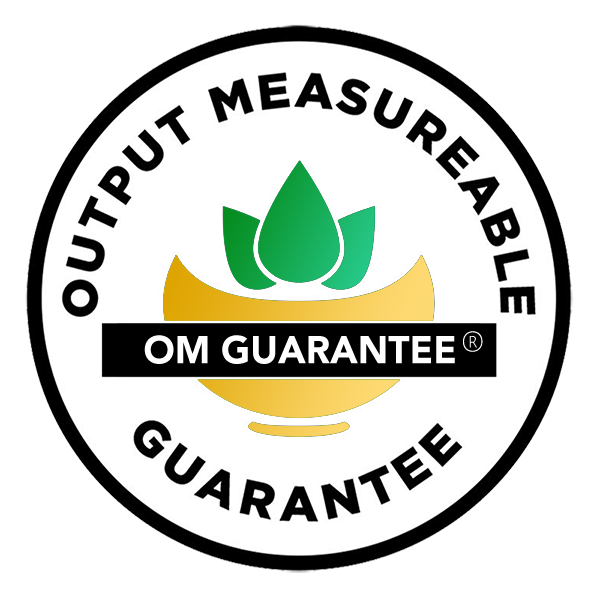 Then in 2017, while pitching the idea again I had an epiphany — while the idea of a mini snack bar to raise funds for the charity was a good one, what was most appealing about the project was the actual guarantee of providing a meal to a needy child. And thus was born what I now call the OM Guarantee® certification or the Output Measurable Guarantee of a positive social impact.
The idea is that socially-responsible companies and entrepreneurs can get their product or service OM Guarantee® certified thus ensuring to their customers that when they buy from them they are participating in helping a child, rescued animal or the planet.
Essentially, the OM Guarantee® is a sponsorship opportunity for companies to make a measurable and positive social impact that is certified. However, individuals can also participate in the opportunity too by purchasing OM Guarantee® Gift Cards that they can give to someone they care for who would appreciate such a meaningful gift. Companies or individual consumers can choose to feed a needy child, a rescued animal or plant a tree, all of which are measurable social impacts.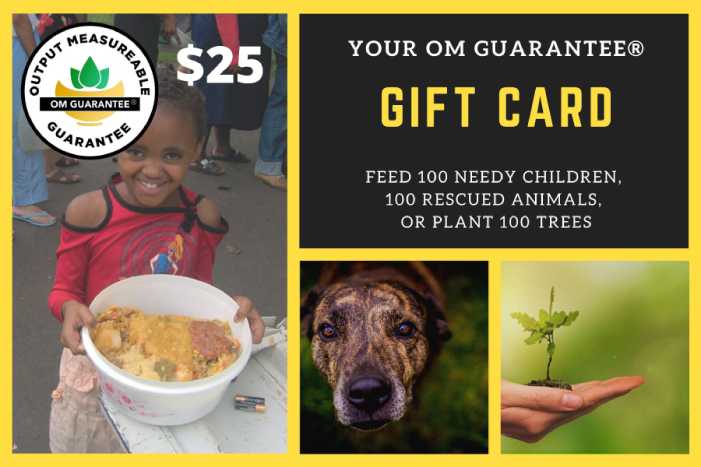 We are still planning to launch the Food for Life Bite, so if you're a vegan snack bar company and are interested in partnering with us, please contact me today!
Why Get OM Guarantee® Certified?
The primary benefits of cause-related marketing are a greater bond with consumers and the goodwill that comes along with doing charity, however, with the OMG certification, you not only get the guarantee of measurable output, but you'll also get the added benefit of being recognized for your social responsibility.
The OM GUARANTEE® certification provides a clear and distinguishable market advantage for companies wanting to show their commitment to a social cause, and what better way than adhering to the best ethical, environmental and social standards while also supporting the health and well-being of hungry children worldwide, caring for abused animals, and planting trees!
As a feedOM™ partner you'll be able to use the OM GUARANTEE® on your approved products and/or services, and if you choose our point of purchase model, for as little as 25 cents for each sale, you can guarantee to your customers that they have made a measurable positive change in the life of one child, rescued animal or the planet.
It's as easy as that!
The partnership level depends entirely on your budget – however, the more you commit the more children are fed; the rescued animals are fed, and the more trees planted.
To learn more about the OM Guarantee and how your company can participate check out this video
VISIT https://omguarantee.com/