Ury Seltzer (left) with Priya at the 2007 Green Festival
My dear Ury,
You were a good friend to me and countless others. You were there for me when I was at my lowest point. You helped me move Food for Life Global along and I can honestly say that your input and assistance were invaluable at the time.
I believe we first met at a kirtan gathering at Vidharba's house. We then met at various other gathering and often at the temple. From the beginning you expressed a sincere desire to help me with the charity. It was only much later that I finally took you up on that offer and allowed you to help me establish a new office in Takoma Park. With great hardship and determination, you and other volunteers created a beautiful new office while I was away visiting my family in Australia.
In the following months you dedicated yourself to help establish Food for Life Global on a more firm financial foundation and offered much valuable advice. That office served us well and it was with great sadness that we could not keep it. But I want you to know that your efforts were certainly not in vain, because any service rendered to God brings eternal benefit. And as you are well aware, Food for Life Global is all about bringing people back to their roots, back to God, through the wonderful experience of sanctified food (prasadam).
From time to time I visited you at your storefront to assure you that your efforts were indeed valued and that I appreciated your friendship. However, today I feel that I failed. I know in my heart that I could have done more; I could have said more to you; I could have done better to involve you in the work of the charity after the office closed. But more recently, I could have done better to be with you during these last few months. It is hard for me to admit it, but mundane life and all it's irrelevant and unimportant features bewildered me and I failed to recognize that friendship and love for friends and family are the only truly important things in this world.
The last time I saw you we shared some peanuts in the hospital. Thank you for sharing with me. You were so weak and needed the food more than I, but still you happily shared them with me. We talked about many things that night including all the latest developments with Food for Life Global, but one things sticks in my mind, your wails of sadness as soon as Sandeep and I left the room. You were so sad, so tired of fighting and so much in pain. It became obvious then that you were struggling the whole time just to smile for us. I held your hand a few times while Sandeep massaged your legs. In Sandeep's presence I sometimes feel useless, because he is such a loving person. Anyway, please know that although I failed in practically demonstrating my love and appreciation for you, it existed then and does even more so in my heart right now.
Despite your shortcomings (and don't we all have them!), you ARE a devotee of God, so I am very confident that you are well and happy and enjoying the reciprocation of love that you showed us all during your life.
One time we held a fundraising event at a coffee shop in Bethesda that you organized. For all intents and purposes, it went well. But the highlight of the show was you playing your guitar. Thank you for doing that. When you played, you did so with love and a heart full of joy. You enjoyed it and we enjoyed sharing that joy with you.
My dear older brother, please remember me kindly. I am sorry for not being all that you wanted me to be. Thank you for being a positive and loving influence in my life.
Love,
Priya
Director
Food for Life Global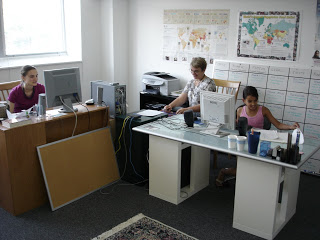 (Food for Life Global office in Takoma Park)