a Vyasapuja offering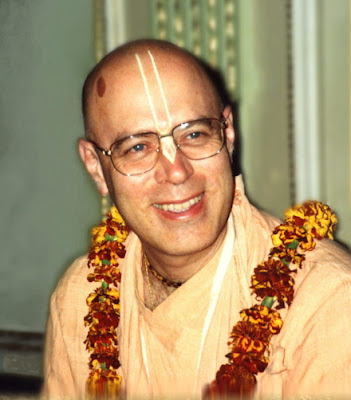 Srila Tamal Krishna Goswami (1946-2002)
You stood strong and espoused the Goldren Rule,
That one and all — should chant the Holy Name,
and thus you increased the glory and fame…
Of the Golden Avatar — in this darkened age,
You were a gentleman, scholar and a wise old sage,
Serving with a passion, that would sometimes make you cry,
There was never a question, you'd ever be denied.
A stubbon man — your determination resolute,
you demanded your way with steel capped boots,
I admired your fortitude and was in awe of your feet,
Unfortunately, the intimidation sometimes made me weak…
To stand my ground — and be strong like your Grace,
I crumbled sometimes under the force of your mace,
But alas, time has now healed me; I now feel up to the task,
To teach spiritual knowledge without a limiting mask…
of false humility, dogma and the demons of doubt,
I think I understand now, what it's all about,
We're individuals, unlimited, and unique as well,
There's no need to merge in some comformity hell.
Like a beautiful tapestry — woven through time,
We have to sing our chord and find our rhyme,
Just like you did — in your quest for Absolute Truth,
You never lost the youthful expectation of impossibility,
Rather, you taught "oneness" through individuality,
A mighty pioneer — in so many extraordinary ways,
it was self-evident to everyone — from the very early days.
In your last foray here — you led a valliant charge,
Of elite scholarship — with accolades so large,
That you filled a wall — with your honours and awards,
And dined with the professors as mineral waters poured.
It's been an honour to have served you in my humble way,
Although I know I fall short in this academic play,
You've set a high standard, that I can only aspire,
Until that day when my frail body must sadly retire.
I hope somehow — that I can make you proud,
As I follow my unique path in this noisy crowd,
Of evolution of spirit and the exploration of life,
And I don't mess things up again and create more strife.
Please continue to bless me — in my efforts to share,
For the essence of life — is to love unconditionally,
And it is from the tongue where we evolve spiritually.
Quite aptly, you were known — as the "Gourmet Guru"
A man of refined pallete and sophistication too,
Your hospitality knowledge impressed one and all,
It seemed there was no one — more on the ball.
"Attention to detail" was your trademark in kind,
Absolutely nothing escaped your sharpness of mind,
We were all so proud to assist — in your gracious ways,
Oh' the fond memories of those happiest of days.
As we rallied around you — and smiled as one,
Like glowing planets — orbiting the Sun,
You were our hero, our General, our teacher divine,
Showing us the way — assuring us all would be fine.
We still believe you, and now try to serve our best,
Expressing our individuality on this noble quest,
As we find our way — in this darkest of nights,