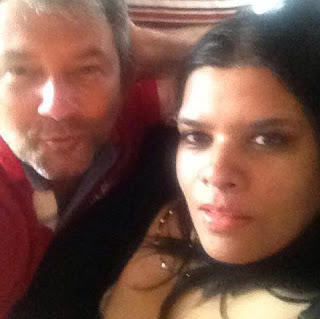 Manjumedha ("Manju") with her husband, Subhadra ("Su")
There's a lady we call 'Manju' — a devoted dasi of Visnu,
and the faithful wife of a boy we call "Su."
They're a barrel of fun – and united as one,
just like soy sauce and a nicely braised tofu.
She's a culinary queen — for there's nothing she ain't seen,
in her years of scouring cookbooks.
She'll whip up a feast, to satisfy any hungry beast,
yep, this girl is much more than good looks.
She's strong and firm, like a cast iron urn,
but filled with a delicate herbal tea.
For her heart is so sweet — like a tiramisu treat,
under layers and layers of practicality.
Her cakes are legendary — certainly not ordinary
for she is a creative genius with food.
She can create magic on hand, so please understand,
this girl knows how to get you in the mood…
To feel satisfied, like a newly-wed bride,
it'll be the happiest day of your life…
When you taste her wonder meals — your heart she now steals,
to soak with love and butter with her knife…
Covered in whipped cream — a saffron dream,
for she knows exactly what you need.
There's no stopping this girl, as marzipan does swirl,
for liberating your soul is her creed.
I am so honoured to know, this Gujarati JLo —
yep, this girl got style and spunk.
For she'll break into a dance, on your decor to enhance,
and transform your drab crib with funk.
She's an eclectic designer, with a mind like Steiner,
nothing is beyond her expansive mind.
Fusing colours and styles, that'll make everyone smile,
creating a feel you just can't define.
Such a unique, lovely woman — so far from common,
for her passions run deep and wide,
I mean, who would have guessed, she thinks GSP is the best,
and that she's a huge fan of UFC and Pride!
On this blessed of days, we call out: "Hip, Hip, Hare"
to celebrate her life with a cake.
As she enjoys every bite of God's love all so bright,
displayed as candles of a soul so awake.
This lass emerges anew — like a teenage girl's debut,
and is now ready to party and play…
on the dance floor of wisdom, she seeks God's blessed kingdom,
with her spoon held high she does say:
"Please come to eat — and take your seat,
for everyone is welcome here today.
I have made this just for you, and it's been blessed by the 'boy blue,'
so please help me celebrate my birthday."
"Most certainly mam — you must understand,
we relish your prasadam — oh so high.
You're a kitchen Goddess — a hostess with the mostess
for there is no one you will ever deny."
"For this we are so grateful, so don't mind if we take a plateful,
for your love food is absolutely divine.
The taste so transcendental — and yet so fundamental,
in transforming us lowly swine."
"We feel loved again — and totally freed from the mundane,
of lusty thoughts, anger and greed.
Your food makes us feel whole — body, mind and soul
for liberating our soul is your creed."
Happy Birthday!!!
Your godbrother,
Priyavrata das