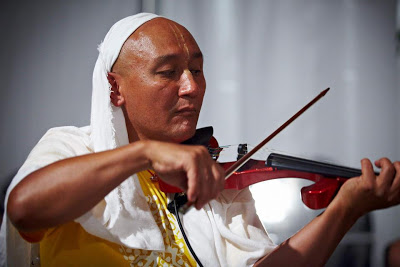 Murari Krishna Das,
I know a guy name Murari, that was always in a hurry,
but who was reliable as fire is to heat,
For he is a strong like a Ram, and English he does understand,
and he does play to a classical beat.
A prince of the violin, he was one to get you smiling,
if you happened to fall out of synch,
He would quickly compose, as only a meistro knows,
and much faster than your eyes could blink!
Possessing a Bhisma-like appetite, which was totally alright,
for his metabolism would burn at a high rate,
However, when we sat down for a meal, I had to appeal,
that he please take the time to ruminate…
And mull over his food, and thus set a mood,
of respect and love for our blessed meal,
and he did comply, that I cannot deny,
but his digestive fire was unreal!
Hailing from Kazakh, Murari love to make a buck,
an opportunist through and through,
But like any responsible man, morality he understands,
for he's devoted to the Boy in blue.
I remember those days, when we traveled and played,
In the remnants of a failing FSU.
And Murari was so kind, to help me in a bind,
as we traveled as One, not two
Guiding me around, like a well-trained hound,
he knew exactly where to find our way.
As we traversed forgotten lands, at a time of great demand,
and the people did appreciate what we'd say…
For it was Murari who translated, my English as I waited,
to see the response to my words,
Fortunate for me, I had a good man in Murari,
to represent my heart, and they heard…
My sincerity came through, like a sunrise through dew,
and they cried and cheered us both on.
We were loved by everyone, in a whirlwind of fun,
and encouraged to continue our song…
That prasadam was the way, to happier days,
and that sharing it must be far and wide,
to create love and unity, in a world so much in calamity,
and to generate a tsunami tide…
Of goodwill among men, ladies and the fallen,
and to uplift the spirits of all children,
as we united as one, under a universal sun,
and abandoned the illusion of Communist doctrine.
Oh those days were so blessed, by the mercy of the Goddess,
as She directed us from town to town,
traveling by car, bus and plane, our schedule was insane,
but we took shelter in the holy sound.
Dodging bullets sometimes, in war zones of crime,
as the innocent struggled to survive,
Our words rang our loud, and made our volunteers proud,
and encouraged them to help thousands revive.
Even the New York Times noted, and I have quoted:
"It's not hard to find someone to swear they are saints."
Likened to the Kolkata Mother, as they served bread and butter,
and not even Muslims had a complaint.
I mention such asides, as the volunteers were Vaisnavites,
Or of Hindu faith, you see,
So normally this would cause friction, in a land so lost for direction,
and people would not recognise their sincerity.
Such is the power of pure food, to create a united mood,
and set the scene for love and trust,
and I am happy to say, without reservation or delay,
That Murari understood this message, so just.
So, I am happy to know, this Capricornian fellow,
A man I feel is like a brother to me.
He's a gulabjamun you must squeeze, to find the real ocean breeze,
of a heart soaked in trust and pure ghee!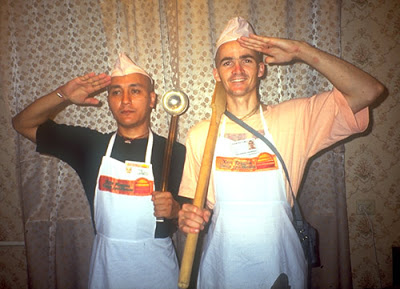 Murari (left) with me Priyavrata during our tour in the early 90s when we helped establish
Food for Life across the former Soviet Union. We traveled across borders like this and often we never even had to show our passport as the border guards were astonished.