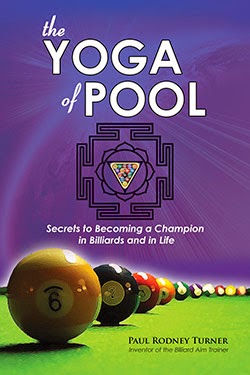 For those that have purchased my groundbreaking book on pool, please consider writing a small review on Amazon or getting a copy for yourself. Here is one recent review from a customer:
"The author clearly defines areas of one's inner workings of the body and mind such that the readers will is brought to the surface for playing the game. Results should be in positive, ever improving path to success. Adherence to the fundamentals of pool, coupled with fundamentals of learning may materialize into better pool, but the development of self-awareness and awareness of state of mind and effect on others serves well to place you into a more valuable position to achieve higher results both on and off table."
Topics Include:
The Three-Cut System
Aim While Standing
Back Foot First (Proper body alignment)
The Yoga of Pool
The Rhythm of Success
The Pause
Self-Respect and Will to Win
Staying Centered
Sportsmanship
The Power of Individuality
Enthusiasm
Always Learning
Visualization
Training Drills
Confidence Building Exercises
To see the book on Amazon:
http://www.amazon.com/YOGA-POOL-Paul-Rodney-Turner-ebook/dp/B0046LV0JO/
Why I wrote this book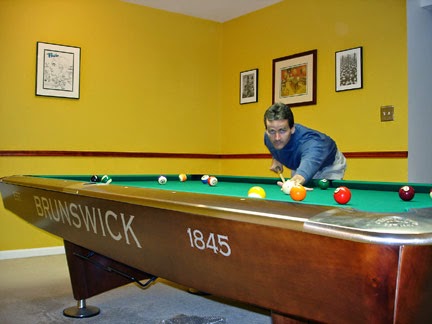 If you're like me, you've probably read all the books on how to improve your game, including the classics from Phil Capelle. I don't propose that this book will cover every facet of the game of billiards; Capelle's books do a great job of that. However, what I will declare is that The YOGA of POOL – Secrets to becoming a Champion in Billiards and in Life will provide you all the essential tools you need to become a great player, while simultaneously helping to make you a better person.
The book provides the fundamental ingredients of what makes a great player. The chapters are concise and digestible and not filled with unnecessary fluff. The idea behind the book is to give you an easy-to-understand roadmap to success in the form of short essays describing key elements of the game.
I need to point out that the sections dealing with aiming are taken from my other book,World's Best Aiming System for Billiards. I felt it was necessary to include the same information for completeness of this book. If you already purchased my other book theWorld's Best Aiming System for Billiards, you may skip those sections. In any case, the knowledge contained within this book will certainly expand your understanding of the Three-Cut System and support your development in all other facets of the game.
One glaring omission from many books on billiards is a lack of information on the mental and spiritual side of the game, including proven techniques for visualization, mind management, and confidence building exercises. You'll find them in this book, and rightly so, because to ignore the mind and spirit is akin to ignoring the driver of the vehicle. Every world-class motor racing team knows that a good driver is the difference between success and failure.
As the subtitle suggests, this book is much more than the secrets for success in billiards; it is, in a way, a kind of "Covey-like" directive for the billiards enthusiast on what makes one successful in life.
You may just come away from reading this book feeling a renewed sense of self-worth and optimism. I hope so. I promise you this: if you apply the following ingredients of success to your game, and in your life, you will experience monumental improvements in every aspect.
My hope is that the book will serve to make you the very best player and person you can possibly be.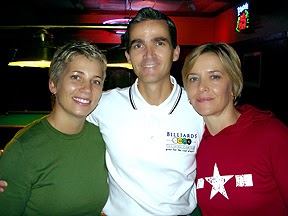 Gerda Hofstatter, Paul Rodney Turner and Allison Fisher
I have been playing pool for more than 30 years and have studied all the best training literature on pool and snooker, as well as being personally trained by World Champions, Allison Fisher and Gerda Hofstatter, top touring pro Max Eberle, and Master BCA instructor, Jerry Briesath.