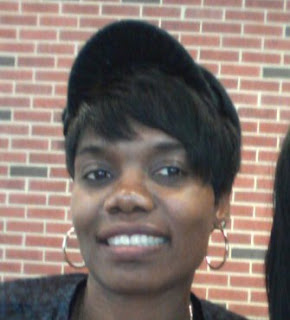 Dionne
Big thumbs up to Delta Airways customer service reps at JFK, Dionne, and Omar. I am on my flight to Slovenia, via Paris. Here is what happened.
To start with, the taxi from New Jersey to JFK too way longer than I anticipated (2 hours) and then the driver dropped me off at the wrong terminal, so I am crazy late! As I entered the terminal at 6:15 pm for my 7.00pm international flight I hear symbols and chanting. I look over and see a swami is arriving and being greeted by disciples. It is someone I know and admire, Gopal Krishna Goswami, but I had no time to say hi, and just took it as a good sign and continued racing up the stairs to the check-in.
It turns out, getting dropped at the wrong terminal was a blessing in disguise, because when I went to counter, one Delta customer service rep called Dionne said, "Oh my, let me check for you. Do you have bags to check?" I said "no." She asked her colleague Omar to find out the gate number so she could call to see if they could take me, but the phone did not work. Minutes are ticking by and she had to find another phone but no one answered. Omar said, "it is too late." You missed the flight! I am like, no, please help me. I am not traveling for personal pleasure. I am traveling for a charity. Then Dionne finally got an answer on the phone, "Hi, I have a customer here traveling for a charity. He does not have bags to check, can you take him?" The quick answer was no, it is too late.
Dionne said, "I am sorry, sir, but you'll have to rebook your flight," but then something happened.
Omar handed Dionne boarding passes. "What is this?" Dionne said. "The flight just miraculously opened up," said Omar, "so I quickly printed him a boarding pass!"
Dionne said, "This is a miracle. Ok, sir, you have to follow me fast. We have to run."
We were at terminal 1 and had to get to terminal 4. We ran as fast as we could to terminal 2 to take the bus. Dionne then took me to the front of the security line and then helped me unpack and repack after the check-in. I grabbed my roller bag and asked her, "Where is my computer bag?" "Oh, I have it. Let's go." We then raced downstairs to catch a bus, Dionne carrying my backpack on one arm and me dragging my roller bag. The bus line was huge, but she took us to the front of the bus, telling the driver to just "go!"
We then took a 10-minute ride to Terminal 4. The one I needed to be at, but she told me if I had gone to terminal 4, the security lines are too long and I would not have gotten a boarding pass. "You have Omar to thank for that," she said.
Finally, we arrived at terminal 4 but then had to run 20 gates to get to my gate. Dionne saw one of those terminal buggies and said, "get on" and asked the driver to get me to Gate 28 asap. The Spanish lady said, "Sure," but did not understand the urgency. Anyway, we got on, but then she decided to pick up other people, a family with lots of bags. They were taking their time and minutes were passing and my flight was boarding. Dionne was hurrying everyone up. Finally, we got going, but there are huge crowds to pass through. I realized I should have just run, but we get to the gate in the nick of time and I am the last person to board. I made it. I hugged Dionne and thanked her for helping me. "God bless you," I told her. Without her and Omar, I would not have made it.
Thank you, ladies. Dionne, you went above and beyond good customer service.
Addendum
I was recently asked why did I feel the need to write this post thanking the Delta employees?
From an early age and especially during my time when I was a monk, I learned the importance of gratitude, specifically in appreciating the service of others. We are interdependent beings. We all depend on each other. Every living being (part) has a service to perform that is valuable to the whole. The world would be a much happier place if we all understood this. My
charity Food for Life Global
's mission is to
unite the world through pure food.
So our ultimate objective is to teach the spiritual equality of all beings through the loving action of sharing food. So my testimony was the least I could to do acknowledge the unconditional love I received that day.