I've always been a fan of cursive writing and at age 18 I took a course in caligraphy. I was the youngest person in the class at the time, so even back then, 1981 the art form was dying out and becoming uncool for teenagers.
With the ushering in of the computer age and the Internet, caligraphy, penmanship and cursive writing are practically extinct. Most schools don't even teach it anymore. I wonder why?
The controlling powers of this world that simply want a submissive and dumbed-down human race may actually have something to do with this. Common Core requirements in the United States do not mention cursive handwriting after 1st grade. After that, the emphasis quickly shifts to proficiency on the keyboard.
"Cursive should be allowed to die. In fact, it's already dying, despite having been taught for decades," said Morgan Polikoff, assistant professor of education at The Univeristy of Southern California.
However, according to Stanislas Dehaene, a psychologist at the Collège de France in Paris, "When we write, a unique neural circuit is automatically activated." "There is a core recognition of the gesture in the written word, a sort of recognition by mental simulation in your brain." A 2012 study led by Karin James, a psychologist at Indiana University, lent support to that view.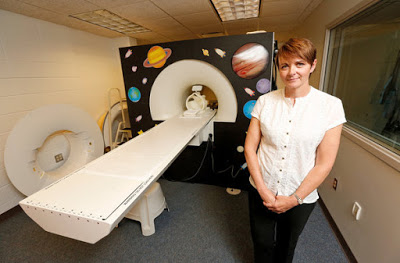 Karin James, a psychologist at Indiana University, used a scanner to see how handwriting affected activity in children's brains.
Psychology Today States:
"Research highlights the hand's unique relationship with the brain when it comes to composing thoughts and ideas. Virginia Berninger, a professor at the University of Washington, reported her study of children in grades two, four and six that revealed they wrote more words, faster, and expressed more ideas when writing essays by hand versus with a keyboard.
"There is a whole field of research known as "haptics," which includes the interactions of touch, hand movements, and brain function. Cursive writing helps train the brain to integrate visual, and tactile information, and fine motor dexterity. School systems, driven by ill-informed ideologues and federal mandate, are becoming obsessed with testing knowledge at the expense of training kids to develop better capacity for acquiring knowledge.
"There is a spill-over benefit for thinking skills used in reading and writing. To write legible cursive, fine motor control is needed over the fingers. You have to pay attention and think about what and how you are doing it. You have to practice. Brain imaging studies show that cursive activates areas of the brain that do not participate in keyboarding."
Watch this amazing video on the penmanship of Jake Weimann